Ecoparque Bacalar Is Even Better Than You Imagine
Discover Bacalar lagoon from an immense dock and snap spectacular photos in this park.
The new Ecoparque Bacalar is a must-see stop on your next visit to this paradisiacal place in Quintana Roo. Surrounded by the stunning seven-color lagoon, this nature park invites you to connect with nature in an innovative and sustainable way.
We will tell you what to do at Bacalar's top tourist attraction, and we'll give you a few tips to make the most of your visit.
What to Do in Ecoparque Bacalar?
The main thing to do is walk the impressive tourist dock, stretching two-thirds of a mile long. Because it is built in a square, the dock offers stupendous panoramic views of the lagoon's crystal-clear water.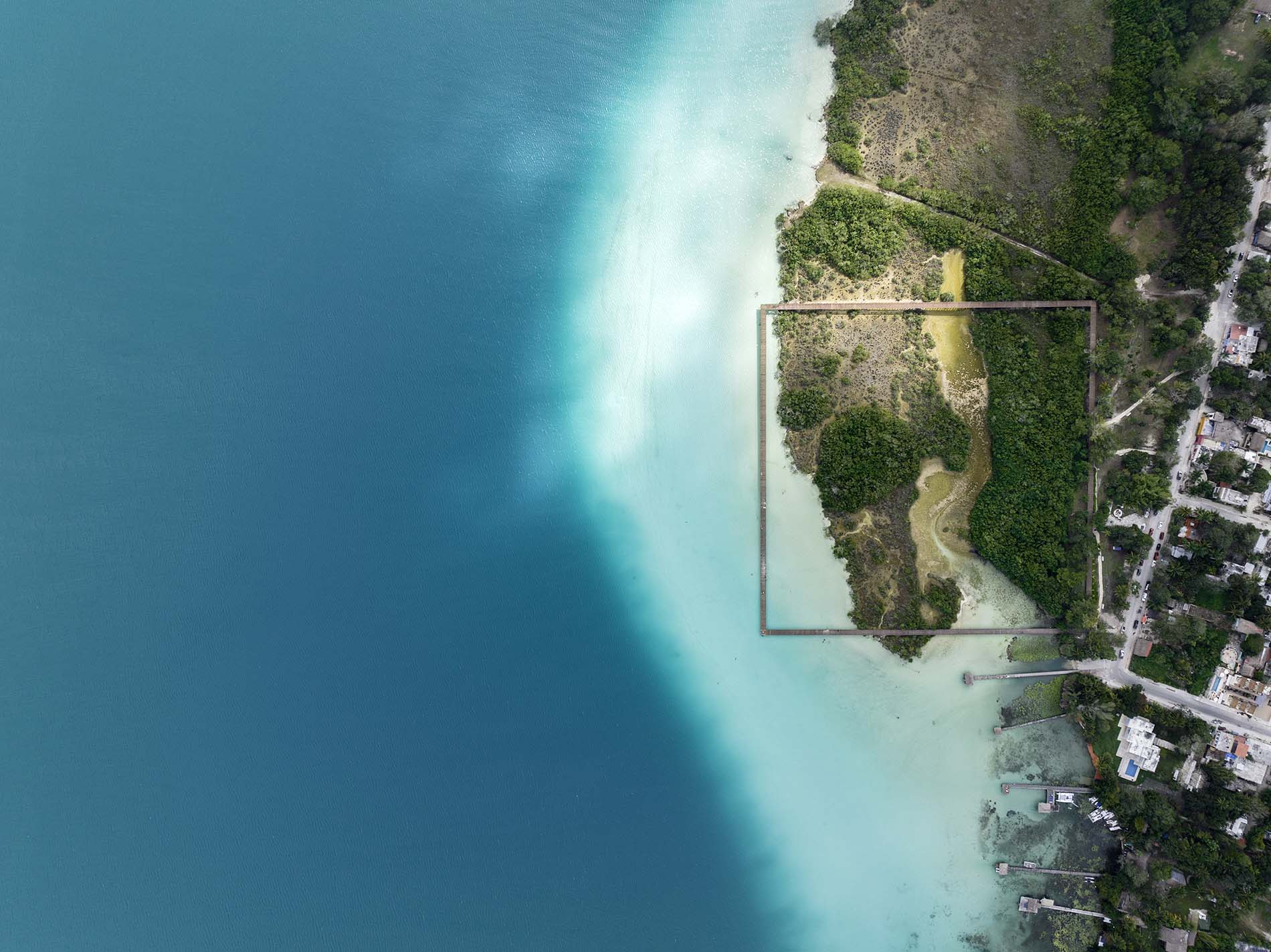 Are you into photography? Don't forget your camera! The dock is the perfect location for capturing striking pictures of the natural setting, including beautiful mangrove forests and local wildlife.
Not only that, but it was also efficiently built with local wood. It was designed to let visitors wander through the gorgeous natural surroundings while leaving a minimal impact. The idea was to mitigate pollution from the town's runoff and rehabilitate the mangrove forest.
Along the way, there are bits of signs depicting a 10,000-year-long timeline of the history of local biodiversity.
Slip under the turquoise water of Bacalar lagoon and let peace and serenity envelop you. Don't miss your chance to enjoy a refreshing dip in this natural treasure, while keeping in mind the importance of respecting and preserving the aquatic ecosystem.
Ecoparque Bacalar is proud to be a space dedicated to environmental conservation and education. You can stroll through the gardens, spot diverse local wildlife, and learn about the importance of protecting such a unique ecosystem. Furthermore, the park features a classroom, laboratory, and conference room where visitors can participate in educational activities that raise environmental awareness.
Fascinating Ecoparque Bacalar Facts
It spans 1.7 acres.
Building it cost 26 million pesos.
One of the main goals is to protect the stromatolites, living rock formations that are living witnesses to the age of the Earth. They play a key role in the place's ecological balance.
Recommendations
As this is a nature reserve, it is critical to respect the environment during your visit. Don't forget to follow the park staff's directions and keep the areas you visit clean. You can help preserve this beautiful ecosystem for generations to come.
The tropical climate can be intense, so be sure to take sunscreen, a hat, and lightweight clothing. It is also important to stay hydrated so you can comfortably enjoy all the available activities.
How to Get to Ecoparque Bacalar?
The park is some 547 yards from Fuerte de San Felipe, at one side of the well-known Balneario Ejidal water park.
You can get there on public or private transportation. If you are coming from the city of Chetumal, you can take a bus to Bacalar or drive north on the Chetumal-Cancún road (federal road 307) until reaching Bacalar.
Hours and Prices
The park is open from 9 AM to 6:30 PM, every day.
The entrance fee is $20 MXN pesos for tourists, while locals do not have to pay. This makes it the perfect way to enjoy Bacalar's wonders.