Want to Swim with Whale Sharks? The Top Spots to Do It
Swimming with the world's largest fish can be one of the most magical experiences of your life.
Swimming with whale sharks is something you can do in several spots around Mexico. Do you know where and when you can try it?
Whale sharks, also known as the largest fish in the world, swim all over the planet. Their feeding and mating cycles bring them to various coastal regions in Mexico. In regions with plenty of plankton, you can find these marine animals relatively close to the shore, so many people seize the chance to snorkel and scuba dive alongside them.
We'll tell you about the spots in Mexico where you can swim with whale sharks and give you a few tips for doing it.
Places Where You Can Swim with Whale Sharks
Holbox
Whale sharks have become an important part of Holbox island, so much so that it is the island's official animal.
You can spot it in murals, on signs, T-shirts, stuffed animals, and other souvenirs. Close to an area known as Cabo Catoche most of the whale sharks that live in the Mexican Caribbean during the summer gather. This spot is about 40 minutes from Holbox's dock, so swimming with whale sharks is one of the most popular tourist activities on the island. The season runs from May to September.
Want to go to Holbox? Discover what to do in this amazing destination.
In addition to this tour, you can enjoy Holbox's bioluminescent beaches and kayak through the mangroves. What's more, it is a paradise for foodies with so many restaurants it would be hard to get to know them all during one visit. 
La Paz
Close to the shore of La Paz, the capital of the state of Baja California Sur, whale sharks come to spend the winter, specifically from October to March.
One advantage of swimming with whale sharks in La Paz is that the boat trip is usually much shorter. However, there are fewer of the animals, so sometimes outings do not get lucky and see whale sharks.
That said, in La Paz you can also see gray whales, so there is even more reason to visit. Plus, Playa Balandra is close to the city. Many people consider it to be Mexico's loveliest beach.
Isla Mujeres
One of the most popular activities for visitors to this idyllic island in Quintana Roo is swimming with whale sharks. Just like in Holbox, these creatures come here during the summer.
Besides getting the chance to snorkel with the world's largest fish, on Isla Mujeres you can enjoy the Festival del Tiburón Ballena (Whale Shark Festival). It includes parades, Caribbean dancing, water sports, costume contests, sand sculpture competitions, environmental education workshops, and marine biology conferences.
And that doesn't even include Isla Mujeres' multiplicity of other attractions. It is a destination that is as stunning as it is charming.
Ensenada
Salsipuedes, a town close to Ensenada, is known for offering outings to swim with whale sharks. The best season for swimming with these amazing animals runs from June to November every year.
This is the only place in the Pacific Ocean where you can swim with whale sharks. There are significant numbers of these sharks in the area.
Other attractions in Ensenada are the Valle de Guadalupe wine-growing regions and the waves at La Bufadora. And of course, the famous and delicious Baja-style fish tacos.
Bahía de los Ángeles
At this port on the Sea of Cortez, whale sharks gather during summer and fall. Here you can see them between June and December.
Enjoy the Sea of Cortez's quiet waters while getting up close and personal with the world's largest fish. Other nearby attractions include the Coronado volcano and El Pescador and El Soldado beaches.
Tips for Swimming with Whale Sharks
Do not touch the sharks. It is best to keep at least 6 feet between you and the sharks.
Wear biodegradable sunscreen when swimming close to whale sharks. Try not to use any chemical products on your skin or hair that day.
Only swim with whale sharks with certified guides and businesses that have the proper emergency equipment. The SEMARNAT (Department of the Environment and Natural Resources) grants special authorization to operators and businesses that comply with environmental and safety regulations.
Follow your guide's instructions at all times.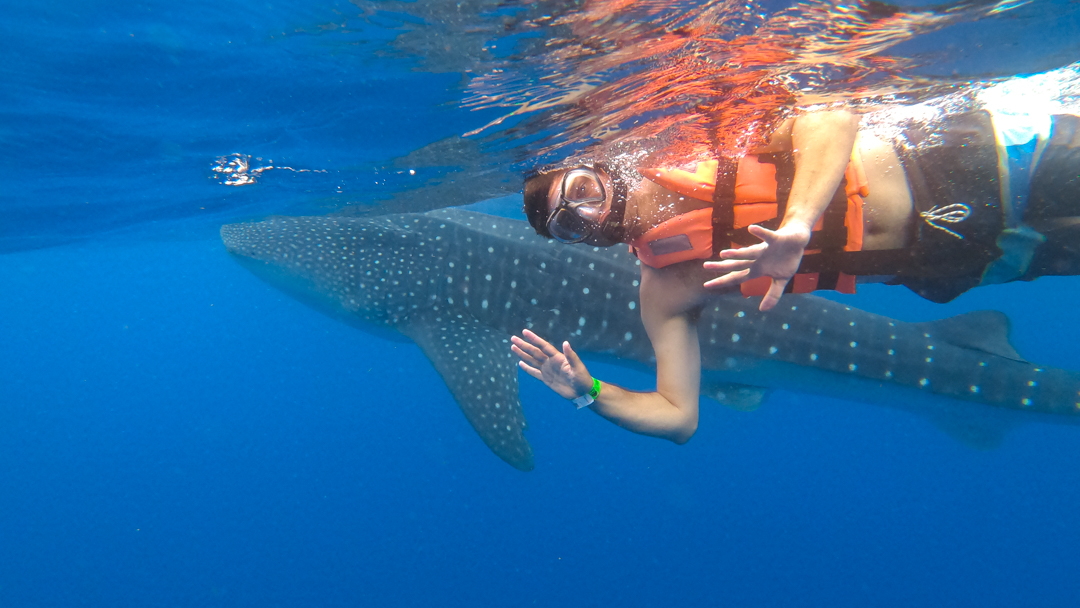 Fascinating Whale Shark Facts
They measure up to 65.6 feet long and can weigh up to 16.5 US tons.
They can live for 100 years.
You can tell them apart from other species by their spots.
In some parts of Vietnam, they are worshipped as gods.