Holbox: The Complete Guide to What to Do and Where to Eat on the Island
The best activities, tours, hotels, and restaurants in Holbox, Quintana Roo. An extraordinary destination!
Holbox, in the state of Quintana Roo, is a one-of-a-kind destination. Far from the glamor that thrives in other parts of the Mexican Caribbean, the island asks visitors to pay the price for discovering its beauty. The best plan is to arrive informed, so we prepared the ultimate guide to what to do, where to go, and where to eat in Holbox.
Leave your fancy clothes and shoes at home. Slip on your sandals and into something easy… and put on lots of bug spray. Welcome to Holbox!
What to Do in Holbox?
Good question! First of all, a word of warning: Holbox is idyllic for those looking to get in touch with nature and all its wonders. So, if your idea of a good time means lots of activities and entertainment, this may not be the right spot for you.
On the other hand, if you are looking for peace and quiet, to unplug and enjoy the sights and sounds of nature, get ready for the adventure of a lifetime. Here you can swim with the world's largest fish during the day and in glowing water at night. Paddle among clusters of mangrove trees, learn to fly above the waves, and gaze at the most spectacular sunsets you have ever seen.
These are just a few of Holbox's best activities, take note!
Tour Tres Islas
Among Holbox's tours, this is the classic one. They are called three islands (Tres Islas), but really the name is misleading: they are two small islands and the third is a naturally occurring pool on the mainland, on the other side of the lagoon. The two islets are called Isla de la Pasión and Isla Pájaros, and both are gathering points for a range of migratory birds.
Besides bird-watching, the tiny islands are home to peaceful beaches where you can take great photos. Meanwhile, Yalahau lagoon and its cool fresh water are the perfect finishing touch for the tour.
Whale Shark Expedition
Whale shark season runs from mid-May to mid-September. During this period, visitors have once-in-a-lifetime chance to swim alongside the world's largest fish. It isn't the cheapest outing on the island, but it is undoubtedly one of the most magical.
It is mind-blowing to think that these giants had only been seen some 300 times until the 1980s. In the '90s, an area northeast of the Yucatán Peninsula was discovered where hundreds of these fish flock every year. They gather to feast on krill and the eggs of little tunny fish. Ever since then, people have been able to admire these majestic creatures every summer.
Watch out: be sure to go with an authorized tour operator who complies with all environmental regulations.
Bioluminescence in Holbox
Speaking of magic and nature, few phenomena combine both as much as bioluminescence. It occurs naturally thanks to microorganisms in the ocean that produce chemical reactions when they are agitated or upset. These reactions cause them to glow. They are visible when it is very dark, such as on moonless nights.
The best time to see bioluminescence in Holbox is from April to September because in fall and winter months the water is not warm enough for these tiny organisms to proliferate. Also, keep in mind that even during this season, there are several days in which there is too much moonlight to see their glow, so it is best to try to catch them when the moon is new, waxing, or waning.
Some days there are plenty of microorganisms, and you can see the glow on the beach, even with the lights of the town. However, normally you have to go out to sea a little or look for darkened beaches, far from town. To tell the truth, the best thing to do is get a tour. Operators can take you out on kayaks to places where it is seen better.
There, with the quiet shushing of the waves and the wind, you can swim among phosphorescent green sparkles and admire the glowing trails left by fish. Unforgettable!
Kayak Through the Mangroves
Between the lagoon, ocean, and the rivers that crisscross the island, there is a maze of mangrove trees just waiting to be discovered. The kayak tour through the mangroves is perfect for those seeking outdoor activities and to get in a little exercise. Paddle through the channels formed by nature while spotting all kinds of birds and other wildlife.
Bike Adventure
Some choose to rent a golf cart to get around the island, but the truth is renting a bicycle is the best option. Bikes can get you to places where golf carts can't, and it feels like the mode of transportation that is most in line with the place's vibes.
Head out from the end of the hotel zone towards Punta Coco and Punta Ciricote. Ride from one side of Holbox's populated area to the other, and lose yourself for a while on the quiet trails along the western edge.
Other Activities on Holbox
The sandbar that makes up the beach along the hotel zone offers the one-of-a-kind chance to walk in the ocean. The first hours of the morning and evening are the best times to do it.
Speaking of sunsets, the ones in Holbox are spectacular. Since it is such a small town, dusk becomes the most popular form of entertainment. For this reason, it is more than just a sunset, it is the time of day when tourists and locals gather on the beach to take in the views. Children play, music sounds from drums and guitars, yoga classes are in session… everything is happening at the same time.
Are you an animal lover? The Refugio Animal is an organization that does extraordinary work rescuing and rehabilitating all kinds of animals, from stray dogs to pelicans. You can pay them a visit and even help walk a dog along the beach.
Finally, if you are a thrill seeker, you will be glad to know that Holbox is a world-class kitesurfing (also called kiteboarding) destination. If you have tried this water sport before or if you want to take your first classes, there are kitesurfing schools that can help you out with the equipment and everything you need to fly above the waves.
Where to Eat
The food scene has become another one of the island's tourist attractions. There are many, many restaurants on Holbox, and picking out the best can be a challenge. We'll recommend a little bit of everything so you can choose what sounds the best to you.
Let's start how the days start: with breakfast. For this meal, the classic choice is Le Jardin. The owner is a retired Frenchman who decided to spend the last third of his life on the island and opened his own bakery and café. Making croissants and chocolate-filled rolls in Holbox's weather is not easy, but he found the perfect recipes. In addition to pastries and coffee—you can get refills—they serve omelets and delicious sandwiches. The spot is truly a garden. You will breakfast among verdant plants.
Another option is Painapol, where you can find the town's most photogenic breakfasts. They are specialists in smoothie bowls, superfoods, and vegetarian dishes, but they also sell pies, cakes, pancakes, focaccia, and other dishes for those who want something a little less healthy. They have a definite beachy vibe: sandy floor, swings, wood furniture, and hanging décor made from shells and snails.
For lunch and dinner, the range of options is greater. Do you feel like digging into seafood at a local place? Las Panchas is what you want. A proudly Holbox restaurant just a few feet from the shore, it offers all the classics and a few surprises—such as the delectable octopus in butter. If you want to sample the famous lobster pizza, we recommend trying heading to Roots, where you can also enjoy the ambiance and live music.
In Barba HBX they serve the island's best seafood tacos, but there are also delicious options for vegetarians. Don't miss the bar's offerings, including drinks made with locally distilled gin from the neighboring town of Solferino, Quintana Roo. But if you feel like more traditional tacos, we recommend Maiztro: suadero (beef), cecina (salted, dried beef), rib eye, and sausage are just a few of their specialties.
What about a special dinner? The perfect place is Luuma, a kind of night garden lit by torches and candles. Here the food is ordered as a series of small plates, and surprising combinations are the norm. Shrimp kebabs seasoned with annato al pastor style, bean falafel with fresh jocoque yogurt cheese sauce, mutton tamales with savory black recado sauce, and for dessert, rosemary infused chocolate with notes of blue cheese, morita chili pepper, and corn.
In El Chapulim, the chef changes up the menu every night and offers guest four options for main dishes: take them or leave them. The food here is unpretentious and simple, while also glorious and sublime. The talented cook behind this restaurant has been dishing up food every night for over two decades, and it is no coincidence that his business is booming.
Salma looks like a pirates' tavern, but it holds an ambitious, sophisticated menu. For example, try the beef tacos with craft beer and honey, or the pasta with truffle oil and a blend of soft cheeses. If you hang around long enough after dinner, you will see how the spot becomes Holbox's chicest electronic music club.
And lastly, an offbeat option. Pandora Holbox offers something more than a dinner. It is a completely multisensorial experience using a play made up of music, dance, narrative, and lighting. Loosely inspired by the Avatar saga by James Cameron, this show explores the sacredness of nature and the importance of being in sync with our surroundings. The boundaries between stage, vegetation, and guests fades away, creating an interactive experience.
Festivities on Holbox
Without a doubt, the largest celebration is Holbox's Carnival. Every year, in February and March, the whole town takes a break to celebrate carnival. The streets fill with colorful dance troupes and live music, showy choreography, and spectacular costumes. Each troupe develops a concept for the year and has written the lyrics for each of the songs to be presented. Sometimes the lyrics speak of being proud to be from Holbox, other times, it is gossip and recent town events.
Dancers in Holbox Carnival.
Everyone is in good spirits. Behind the costumes and makeup are locals, the same ones who work in the businesses and are guides on tours. Restaurant owners, homemakers, civil servants, taxi drivers, everyone is dancing and singing together with broad smiles. If you didn't catch all the day's dancers during their performance, don't worry, at night they will put on another show in the main plaza's dome.
In contrast, in April is the San Telmo celebration. He is the patron saint of fishers. There is a procession through the town wrapping up in a large celebration downtown. Furthermore, during these days there are fishing competitions. The fish is cooked, and the seafood is given away to passersby. This is the kind of festival you don't want to miss!
Where to Stay
In Holbox there are a lot of hotels, in every style and for every budget. Your choice will depend on if you want to be close to downtown or away from it all, if being on the beach is important to you or not, and how much you want to spend per night.
If you prefer a hotel close to town, Villas HM Paraíso del Mar is perfect. It is designed like a town in the jungle, and it has a spacious area with lounges overlooking the ocean. Are you traveling with pets? Casa Iguana is small and very comfortable; it is pet friendly and just two minutes from downtown. Next door is Casasandra, an art-inspired hotel. The restaurant is well-known for being one of Holbox's best.
One of the island's strengths is its large number of boutique hotels. Among the most popular is Casa Takywara. It sits neither very close nor very far from downtown and has access to Holbox's best beaches. The décor puts nature first, and they use organic and biodegradable products.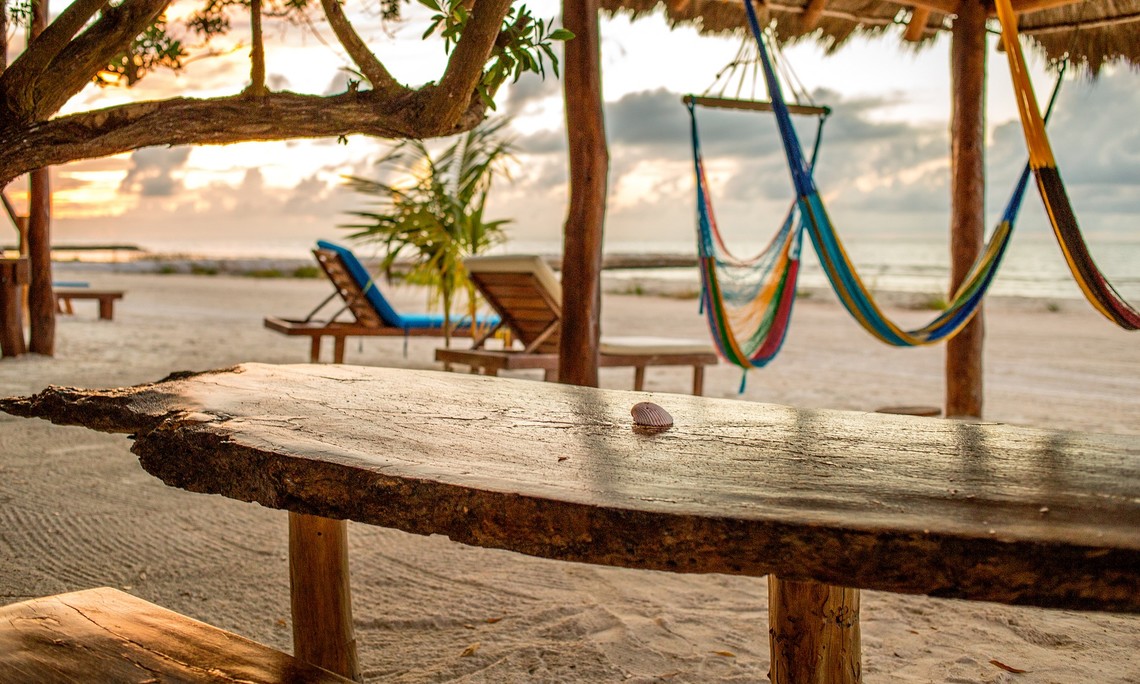 Nomade, from the creators of the hotel of the same name in Tulum, is idyllic for design and décor lovers. Inspired by nature, the rooms are like tree houses and are built to minimize their environmental impact.
Punta Caliza has become famous for its architectural details, mainly its rooms on the edge of the pool. Just open your door and dive in. You have to walk a bit to get to the shore, but the hotel has its own beach club for guests.
If you prefer to get away from it all, your best bet is Las Nubes. It stands at the end of the hotel zone, on the far eastern end of the island. After Las Nubes, there isn't anything else. The peace and quiet is the hotel's main attraction, but it also has a lovely terrace where you can take in the sunset in comfort.
And if you are looking for an experience more like the hotels in Playa del Carmen and the Riviera Maya, you will be sure to like Margaritaville St. Somewhere. Very close to Punta Coco, it features spacious facilities and amenities such as cooking classes, beach volleyball games, and other competitions, as well as a massive pool with food and beverage service.
Tips for Traveling to Holbox
Take insect repellant. There are lots of mosquitos, especially between May and November. They catch most tourists by surprise!
Get ready for puddles. Holbox's streets are not paved, and the island doesn't have a drainage system. This means that when it rains, the sand on the streets becomes mud and puddles. We suggest taking rainboots and, if you want to miss it completely, go during the winter.
Take enough cash. Many spots take cards, but, if you need cash, it isn't always easy to get.
Plan when you will visit carefully. Whale shark season is from May to September. You can best see the bioluminescence between April and September. Dry season runs from December to April (less puddles and mosquitos). Carnival is celebrated in February or March.
How to Get There
Plan how you will get to Holbox, as cars don't cross to the island. For this reason, the first destination is Chiquilá port, a small town from which ferries depart to Holbox. From Cancún, take 180D (the highway from Mérida). Stay on it to the Popolnah turnoff, and take it. You will go through Kantunilkín, San Ángel, and Solferino before reaching Chiquilá. Here you can leave your car in a parking lot and take any of the two ferries to Holbox. They leave every half hour, and the trip takes 25 minutes.
Buses also run to Chiquilá every day from Cancún, Playa del Carmen, and Mérida.